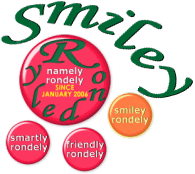 Since January 2006. Last update January 17, 2016 Copyright (C) rondely.com. All rights reserved.
---

Japan has a galore of oranges.

Unshu mikan

is the most popular and easy-peeler people enjoy in

kotatsu

(foot warmer with a table) in winter and originated in Wenzhou, China;

Iyokan

is an extra juicy spieces from Ehime Prefecture;

Kabosu

from Oita Prefecture features abundant sour juice;

Daidai

is a bitter orange also used on New Year decorations;

Hassaku

from Hiroshima is hard-skinned but delicious with well-balanced bitterness and acidity;

Yuzu

is for a condiment and bath floats to promote blood circulation and so on...






Right-click to download.
---
Orangy Smileys (for color background)






















---
Orangy Smileys (for white background)




















---