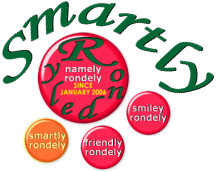 Since January 2006. Last update February 1, 2020 Copyright (C) rondely.com. All rights reserved.
---
Rondely.com Site Policies
Ads Placed in "Rondely.com"
"Rondely.com" (hereinafter "this site") constantly enhances and improves the contents, but it is impossible to provide everything for everyone. Therefore, the site creator uses third-party advertising services (Google Adsense and A8.net) to make it easier to quickly lead to third-party information and services or related products that this site cannot provide.

For the above reason, third-party services need to know the interest and needs of the viewers and, therefore, may use information (called "cookies") related to viewers' website access. The cookies do not include personal information such as name, address, email address, phone number.
Please click here for more information about Google Adsense and its use of cookies.


Use of Access Analytics Tools
For the purpose mentioned above, this site uses an access analysis tool called "Google Analytics" to collect traffic data, which is anonymous and not personally identifiable.

However, please note that the use of this tool helps the site creators enhance the contents and respond to the needs of site users.

For more information on these terms, please see here or here.

To refuse data tracking, disable Cookies, referring to the following sites:
For Chrome browser
For Firefox browser
Edge, Explorer browser


Copyrights
This site is protected by copyright laws. Using any material contained in this site without permission is prohibited.


Disclaimer
The site owner always strives to provide accurate information. However, due to some unavoidable reasons, the site may include less accurate information. Please note that the site cannot be responsible for any errors or consequences which may arise by using the information on this site.


---