Last update June 29, 2022



---
July 7 will come. At shrines and temples, local shopping streets, kindergartens, and people's house doors or windows, guess what? You'll see paper-decorated bamboo trees. They are the so-called "Tanabata Kazari", or decorations for the July 7 Star Festival. Look carefully, and you'll see paper slips holding messages written on them. Some noble ones say: "May the world be a better place!" or "Wishing for world peace". Then other mundane ones might go like "I wanna be rich" or "Wanna be a good baseball player" (a bit typical for Japanese children). But why do people decorate bamboo trees with paper slips for this day?

Before cracking that mystery, let me tell you a story of a poor couple punished for their intense love's sake. It's not directly linked to the enigma but a famous legend behind the Tanabata festival (So I simply cannot forego it).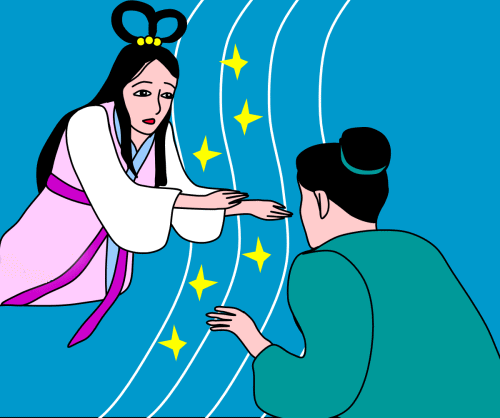 Once upon a time, there was a beautiful princess called "Orihime" or "Weaving Princess", who was an excellent and hard-working weaver. When she turned a marriageable age, her father, the celestial emperor, found her a perfect husband, who was a diligent cowherd named "Hikoboshi" or "Boy Star". Unfortunately, the couple loved each other so much that they began to neglect their professional duties — weaving and cattle herding, causing the entire community trouble and inconvenience. So the emperor decided to solve the situation by separating the lovebirds across the Milky Way and allowing them to see only once a year (July 7).
So why bamboo trees and paper strips? To make the couple happy or send them encouraging messages? Nope. As I said earlier, this love-gone-wrong story has nothing to do with the decoration. So let's forget about it for a while.

What's in the bamboo tree? A well-known fact is that its leaves are a typical diet for healthy pandas. Not only for the animal, but the plant also seems to do good for people in many ways. Of course, we don't eat it, but it's antibacterial. Hence it's traditionally used to preserve perishable food — for instance, placed under food offerings for the deceased during summer. Thanks to the plant's strong vitality, people have related it to sanctity and used it in many religious rites. They did use the tree as part of Bon Festival activities, which originated Tanabata's bamboo tree decoration. By the way, July 7 in the ancient Japanese calendar falls on the same period as the Bon Festival in the country.

Then, what about paper strips with people's written wishes? Just like many other customs in Japan came from China, so did Tanabata (imported in the Nara period) and its paper slip writing. Expressing one's wishes on those narrow-width sheets of paper (particularly called "Tanzaku") took its origin from an ancient Chinese event called "Kikoden", where people used to write their poems on paper mulberry leaves wishing to improve their art skills.

For many adults in Japan, Tanabata is one of the good old childhood memories, even more so since no modern grownups celebrate it anymore. Too busy to do that? Maybe so. But fetching a handsome bamboo tree, scissoring colourful ribbon decorations, scribbling dreams on Tanzaku, and placing the decoration by the door or window can be a celestial way to start enduring tediously hot midsummer days.


---