Last update May 5, 2021



---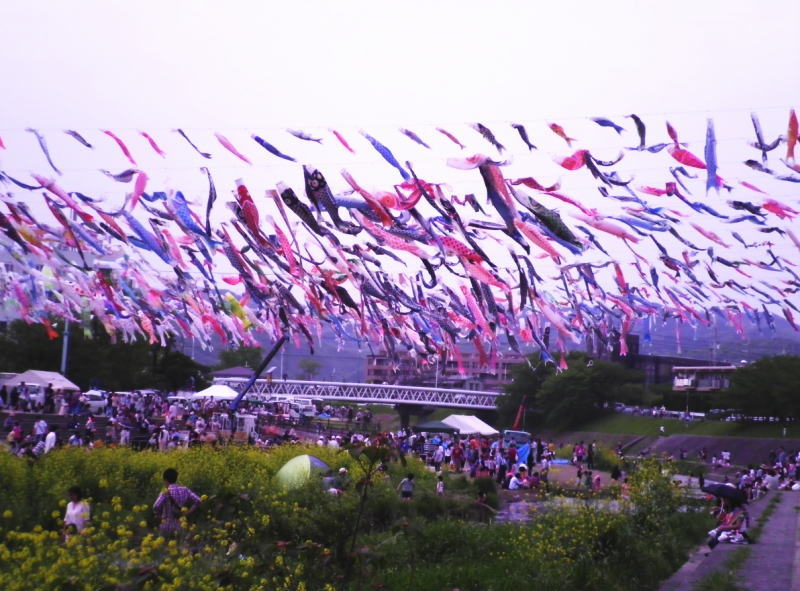 What are these things? What's happening in the sky? Hundreds of mermaid gowns washed and being dried for the weekend party? Or Fishers showing off their spectacular catches?

This phenomenon is becoming popular in suburban areas in Japan. Not in the countryside where there is plenty of room for accommodating every Taro's (the Japanese equivalent of Jack) fish. Called Koi Nobori (lit. a carp climber), these banners have been traditionally raised in the sky by each family with male children wishing for their health and success, on the fifth of May (previously the festival day dedicated to boys).


But why carps and not salmons, sauries or even sharks? And what's the fuss about it? Well, the answer lies in an ancient Chinese story about a carp climbing its way through a waterfall to turn into a dragon. A carp turning into a dragon means, of course, an auspicious symbol of a boy turning into a successful big man. Wishing for the same for their beloved sons, parents (or often grandparents) send them a set of carp streamers usually including a black and a red one for their bold swim in the sky.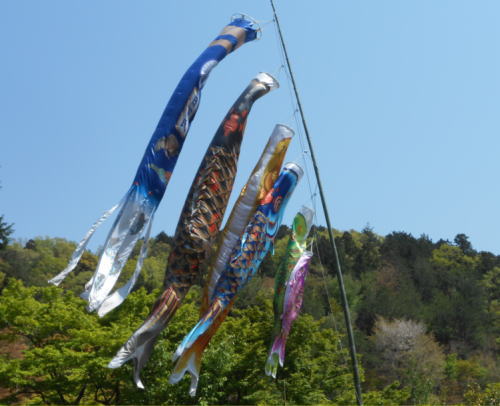 Since it's another superstition or merely a huge commercial opportunity, the effect of their boys' carps audaciously swinging through an imaginary waterfall is quite dubious. For example, my little brother, who once dubbed as a child prodigy grew up to be an ordinary person even after my dad, who was a sawmill owner, furnished a gorgeous pole, tying black and red carps to it and letting them fly. Probably c'est la vie!

Still, every parent loves their young, and so does every grandparent. The tradition persists today, but there's Japan's housing problem: a small house and garden in a small country. My brother was lucky because we are from a rural town, but urban Taros are not so fortunate. Even if they are bought handsome streamers, there's no place for letting them swing! Of course, their neighbours don't live in mid-air, but their carps easily waving into their skies is apparently not good, isn't it? So, flying carps is a luxury for city boys and their gift streamers end up remaining in a drawer unflown, dusted and bugged.

And finally, here comes a solution: mass carp streaming! The more, the merrier, and let's wish for the owners' transmigration!


Accompanied by the melody of "Carp Streamers", children's song.
---