Last update June 26, 2022




---
Dengaku
でんがく, 田楽
Miso-Spread Baking or baked and Miso-spread food
Dengaku originally refers to "ritualistic music and dancing" performed beside the rice fields, praying for good harvests of the year. Of course, people don't do this nowadays except as a cultural event only given at specific shrines or sanctuaries. Many of existing ones are on Japan's List of Important Intangible Folk Cultural Properties. So why the food name? Probably from how it looks like — thick-sliced food such as Tōfu, Konnyaku, Sato Imo or eggplant served on a bamboo skewer reminds us of a dancing figure on bamboo stilts. But in a broader sense, Dengaku also includes any food cooked and served with Miso spread. And Miso is applied before or after baking or boiling, depending on the material or style. For Kyoto residents, shallow-fried Kamo Nasu (Kamo Eggplant) with sweet Dengaku Miso is a savoury summer side dish.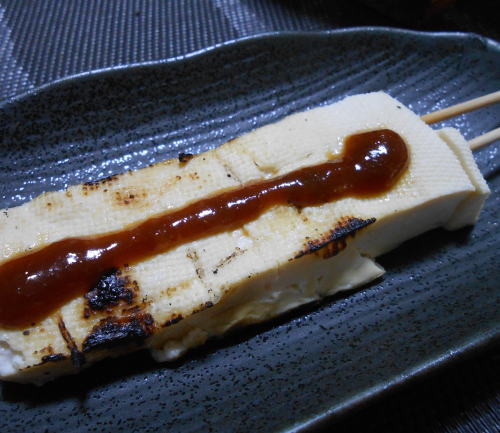 Dengaku of Tōfu.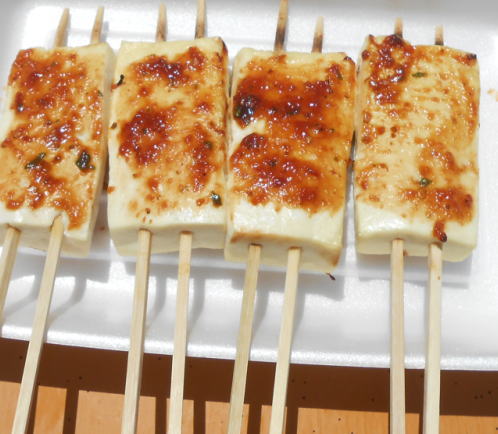 Dengaku of Tōfu available at a food stand.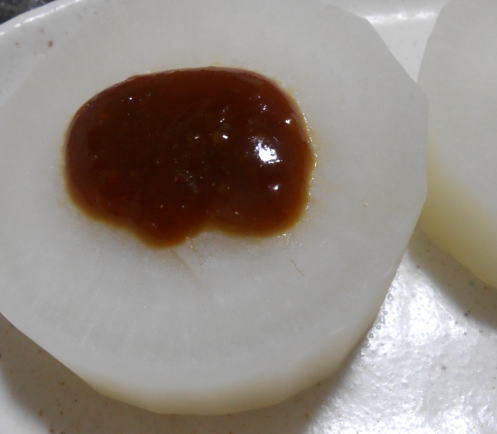 Home cooked Dengaku of Daikon (Japanese radish).
INDEX
---