Last update December 31, 2020




---
Kusa Mochi
くさもち, 草餅
Mugwort Rice Cake or a mugwort rice cake filled with sweet bean paste
Strolling around yellow-green countryside fields in spring, you may find an anonymous shop selling home-made Kusa Mochi (lit. Grass Rice Cake). After a significant walk, your legs would need some rest, your stomach may crave a sweet treat, and you would order some of the product. The wife of the vendor may serve you a cup of hot tea, and ask where you are from. While exchanging some words, the conversation may develop into local history. If it's Oharano in Kyoto, for example, you would know, through the talk, that the place is related to the Tale of Genji. That the author loved this place, and she even included a chapter where an emperor had a grand outing there while many spectators flocked to see the procession. Sipping hot tea and taking a bite of your Kusa Mochi, you would smell a hint of green spring. Also called Yomogi Mochi (Mugwort Rice Cake), its exterior texture is mixed with minced Japanese mugwort leaves.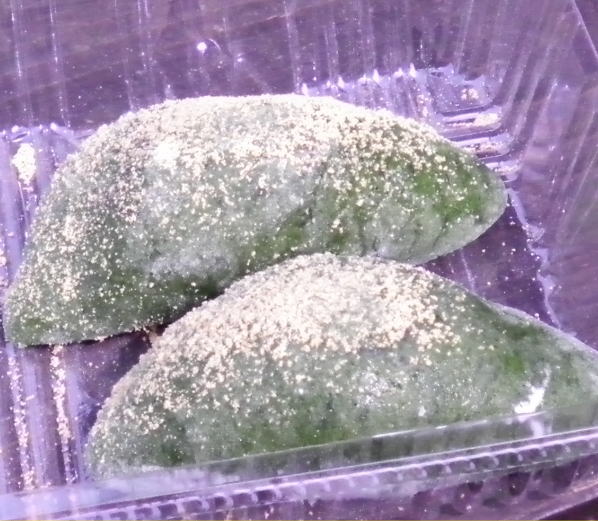 Kusa Mochi bought at a shop beside the Oharano Shrine.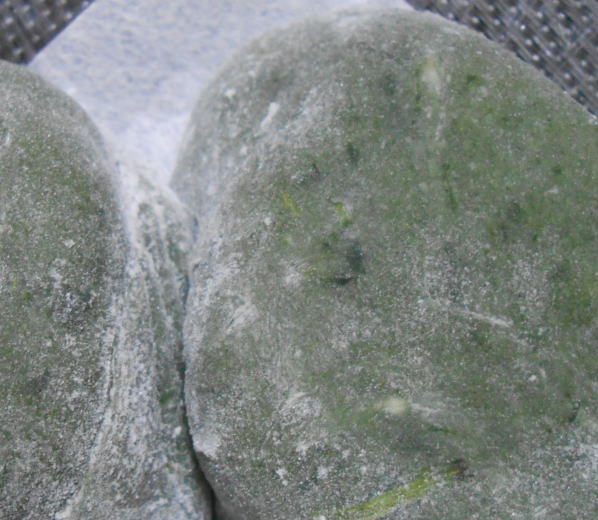 Kusa Mochi sold at a famous Japanese sweets shop in Kyoto.
INDEX
---