Last update July 1, 202s




---
Manjū
まんじゅう, 饅頭
Round-head-shaped Cake
As its kanji "饅頭", meaning "a round head", suggests, Manjū looks like a head. But not many people (including the Japanese) know the food originates from an ancient Chinese story where a famous historical figure (and my hero!) banned human sacrifices (throwing severed heads into the river) performed to stop flooding. He was Zhuge Liang, an outstanding military strategist and the grand chancellor in Shu Han (one of the Three Kingdoms in the 3rd century), who successfully replaced human heads with flour doughs filled with mutton or pork. A bit grim story, but thanks to his invention, we can enjoy various kinds of Manjū today. From a nostalgic white-and-pink pair dubbed "Koh-Haku" (red-white) Manjū, a special celebratory treat, innumerable local sweet products filled with An named "such-and-such Manjū" to non-sweet kinds such as Renkon (lotus roots) Manjū. So-called "Buta-Man" or "Niku-Man" (meaning pork or meat Manjū) with minced pork filling and "An-Man" (An Manjū) are also popular Manjū products.


Kuri Manjū with a chestnut (Kuri) inside the dough skin.
Hiyoko Manjū in a Hiyoko or chick shape, an adorable specialty in Fukuoka (or Tokyo).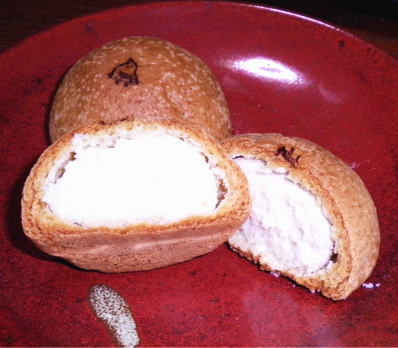 Typical hard-skin Manjū with white bean An inside.
INDEX
---